Recently for sale on https://bringatrailer.com/listing/1973-bmw-2002tii-42/
The second owner orchestrated the car's evolution. For two decades, between 1976 and the 1990's, as funds became available, he would bring it to Allan Hardy for "the next level". The car had two engine rebuilds during this period – H&B stage 2 in 1978 and H&B stage 3 in 1988. In Alpina fashion, as engine power increased, the remainder of the car followed suit; Getrag 235/5 close ratio 5 speed, BMW 2002 3.64 limited slip differential, BMW 2002 Turbo vented brakes, quick ratio steering box (x177), Alpina/Bilstein "Green dot" struts, Alpina sway bars, and more. In its final H&B incarnation, the car was described by the second owner as a "1 of 3" Hardy & Beck stage 3 cars (a sister car was written up in the July, 1979 Roundel, attached). He wanted a sleeper, clearly, it is not what it appears. During those years the car led a varied life; a daily driver, a Sunday sprinter up Highway 880 running with Porsche 911s, time at Sears Point, and more. Built to be driven.
This 1973 BMW 2002tii was sold new by Williams Volkswagen of Lansing, Michigan, and would move to the San Francisco Bay Area with the second owner in 1974. Over the next 20 years it would be serviced and customized by Berkeley-based specialist Hardy & Beck (H&B), and the seller acquired the car in 2002 before moving it to Texas in 2008. Power is provided by a rebuilt 2.0L inline-four featuring Kugelfischer mechanical fuel injection as well as an Alpina throttle body system, a 300° camshaft, forged 10:1 pistons, and Jacobs Electronics ignition. Additional modifications include a close-ratio five-speed gearbox, Alpina "green dot" Bilstein shocks, Alpina sway bars, 2002 Turbo brakes, and Recaro Rallye bucket seats. In preparation for sale the car has received a new starter, belts, rear brake components, fluids, and more as described below. This 2002 is now offered with factory books and manuals, period H&B literature, extensive service records, spare parts, and a clean Texas title in the seller's name.
The body is finished in Verona Red(024), and the seller states a repaint was performed in 2003 to address wear in the finish. A replacement nose and driver's side fender are said to have been fitted by the previous owner in 1990. Exterior features include Cibie headlights, Hella driving lights, Alpina fender graphics, a Golde flip up sunroof wind deflector, and a Cibie rear fog lamp. The seller notes the presence of chips, scratches, paint blemishes in keeping with the car's use, and a walk-around video by the seller further depicts the paint and trim.
Painted 13×5″ Borrani steel wheels wear Michelin tires displaying 2010 date codes. A stock wheel fitted with an older Phoenix Stahlflex tire is stored in the trunk. Suspension modifications include Alpina "green dot" Bilstein front struts, Bilstein/Alpina inverted "Rennen" rear shocks, Alpina multi-adjustable front and rear sway bars, red polyurethane bushings throughout, and a ZF quick-ratio steering box. The brake system has been upgraded to 2002 Turbo specifications and features Turbo calipers and vented discs up front. The rear Turbo drums and shoes are recent replacements according to the seller.
The black interior features Recaro Rallye Sport buckets seats up front and a stock rear bench that has been reupholstered in cloth. Additional features include an Alpina-branded Momo steering wheel, an H&B-modified center console housing a trio of VDO gauges, a period Blaupunkt Frankfurt radio, an H&B-sourced Alpina dash plaque, and Coco mats. Aftermarket seat belts are fitted, and the removed set is included in the sale.
Wear is noted in the footwell carpeting. Splits are also shown in the driver seat upholstery, and multiple cracks are present on the plastic dash. The seller states the five-digit odometer was inoperable upon his purchase and was reset shortly afterward. It currently indicates under 10k miles, though true mileage is unknown. An interior video provided by the seller is viewable here.
The replacement 2.0L M10 inline-four is equipped with Kugelfischer mechanical fuel injection and was rebuilt to H&B Stage 3 specifications in 1988. Features include the following components:
Alpina forged pistons with 10:1 compression
BMW E12 cylinder head
300° camshaft
Alpina A4 multiple-throttle body system
Alpina A4 fuel lines
Alpina A4 airbox and cover
Jacobs Electronics ignition with switch
Electric cooling fan
BMW Tii exhaust center resonator
Ansa muffler
Work conducted within the past two years included the installation of an M3-spec starter and new gearbox mounts as well as fluid, hose, and belt replacements. An overall inspection was performed in December 2019 and noted seepage above the front crank seal and at the transmission back-up light switch, the latter of which was replaced in preparation for the sale.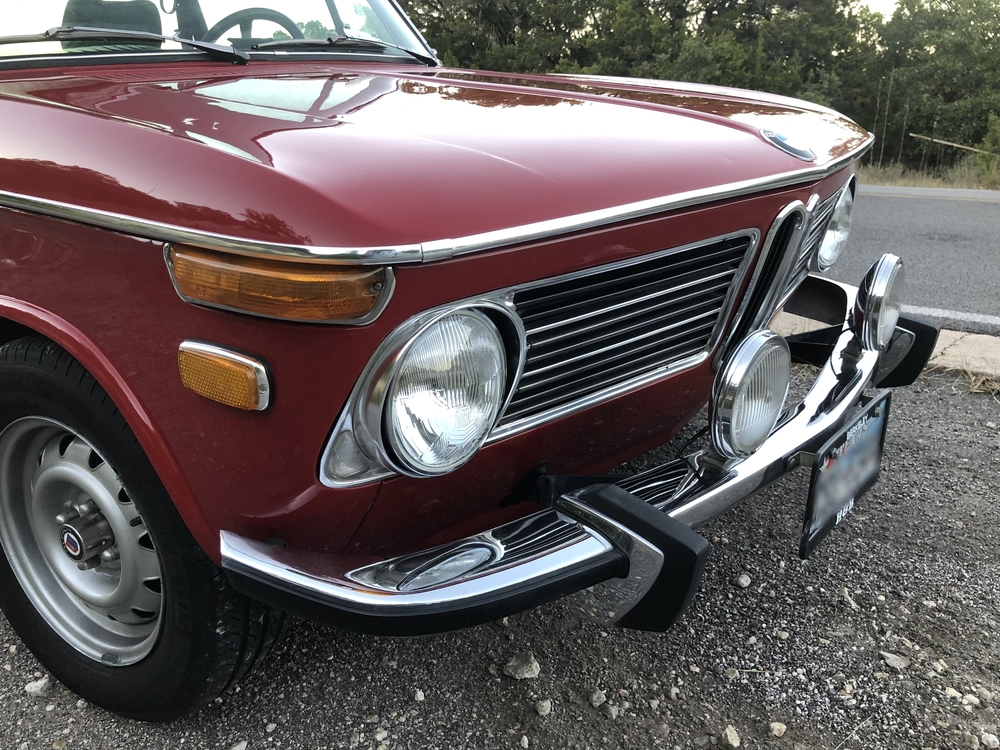 The Getrag 235/5 five-speed manual gearbox was refreshed in 2009 by Haner Haus or Santa Rosa, California and distributes power through a limited-slip differential equipped with 3.64:1 gearing. Additional photos of the underside are presented in the gallery
Service records and period Hardy & Beck literature accompany the car, along with an assortment of spare parts as shown in photos and summarized in the gallery. A startup and in-car driving demonstration is featured below, and additional content provided by the seller includes a clip of the exhaust note and a view the dash clock's function.
While not a Buchloe-built Alpina, this car retains a well-documented provenance that tells an interesting story of the early years of BMW tuning by a leading west coast tuning shop, Hardy & Beck. Included with the car is an inch of H&B receipts (+ early writeup by Allan Hardy), mid-term valuations, Alpina pricelists, period literature, spare parts, and extensive memories.