I had to feature this recently sold in the USA for an astounding $130,000
This 1971 BMW 2002 is one of 200 full cabriolets built by Baur over a sixth-month production run and was completed on June 21, 1971. Finished in Inka over a black interior featuring Pepita seat inserts, the car was ordered from Baur by its first owner in August 1971 and is also believed to have been used as a demonstration or display vehicle. A refurbishment was carried out by Oldenzaal Classics in the Netherlands and completed in early 2019, after which the car was acquired by the selling dealer and imported to the US. The powertrain was rebuilt during the project, including the numbers-matching 2.0-litre M10 inline-four. This 2002 voll cabriolet has been driven just 150 kilometers since completion of the refurbishment and is now offered with early purchase and service documents, photos from the refurbishment, a BMW Classic Certificate, and a clean Texas title.
A cabriolet variant of the BMW 1600 with coachwork by Karosserie Baur was first offered in 1967, and production carried over to the 2002 model after its introduction in 1971. Only 200 cabriolets were built with a 2.0-litre engine before safety regulations inspired a shift to a targa design for the remainder of production through 1976.
This example was repainted during the refurbishment in its original shade of Inkarot (022), noted as "special paint" on the BMW Classic Certificate. The black soft top is shown above in its raised position. Closeups of the top and rear Flexglas window are attached in the gallery below, along with images of the window etchings.
Steel 13" wheels wear polished covers with branded centres and are mounted with Uniroyal RainExpert 3 tyres showing 2019 date codes. European-market lighting includes round taillights and flush front turn signals. Brightwork was polished or re-plated during the refurbishment and is shown up close in the gallery below, with remaining wear noted on various pieces of trim and glass.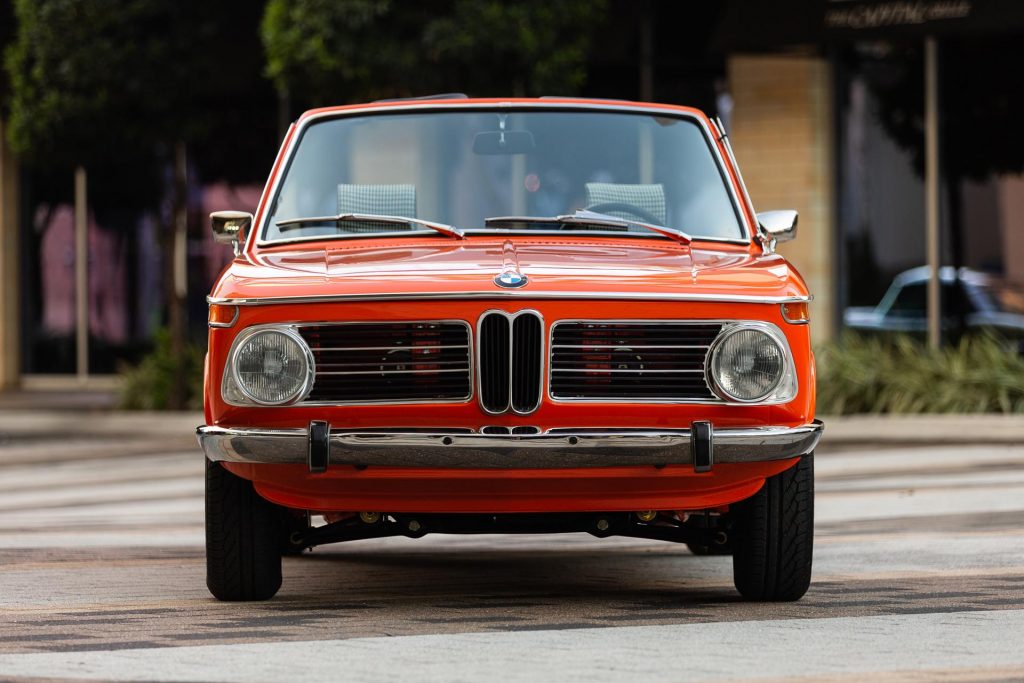 The cabin is trimmed in special order upholstery featuring black leatherette with Pepita cloth seat inserts, as noted on the 1971 order and purchase documents. Charcoal carpeting lines the footwells, while black upholstery is utilised for the door panels, console, steering wheel rim, and top boot. A Blaupunkt radio is situated in the console.
VDO instrumentation includes a 200-km/h speedometer and a five-digit odometer showing approximately 150 kilometers (~90 miles) accumulated since the refurbishment. The selling dealer has added around 40 kilometers
The 2.0-liter M10 inline-four was rebuilt during the refurbishment and is paired with a four-speed manual transmission that was also overhauled. Number 2790170 is shown stamped in the engine block in the gallery and matches the chassis number. Results of a compression test carried out by the selling dealer are shown in the gallery for each cylinder.
Baur paperwork includes order forms and invoices from the first owner's purchase in 1971, noting that a 1600 cabriolet was traded in on the purchase but not listed in the specific trade-in area of forms. The BMW Classic Certificate is also shown in the gallery, along with invoices from the first owner up until 1978 and a selection of documents from 2009.
The seller notes that BMW Classic Car Club President Dirk de Groen has acknowledged in email correspondence that this voll cabriolet is one of 40 on his register. A notation in the register mentions that this example was used for advertising purposes prior to being delivered to its first owner.
Ed; for $130K I'd want a straight "2002" rear script badge and missing front grill screws sorted