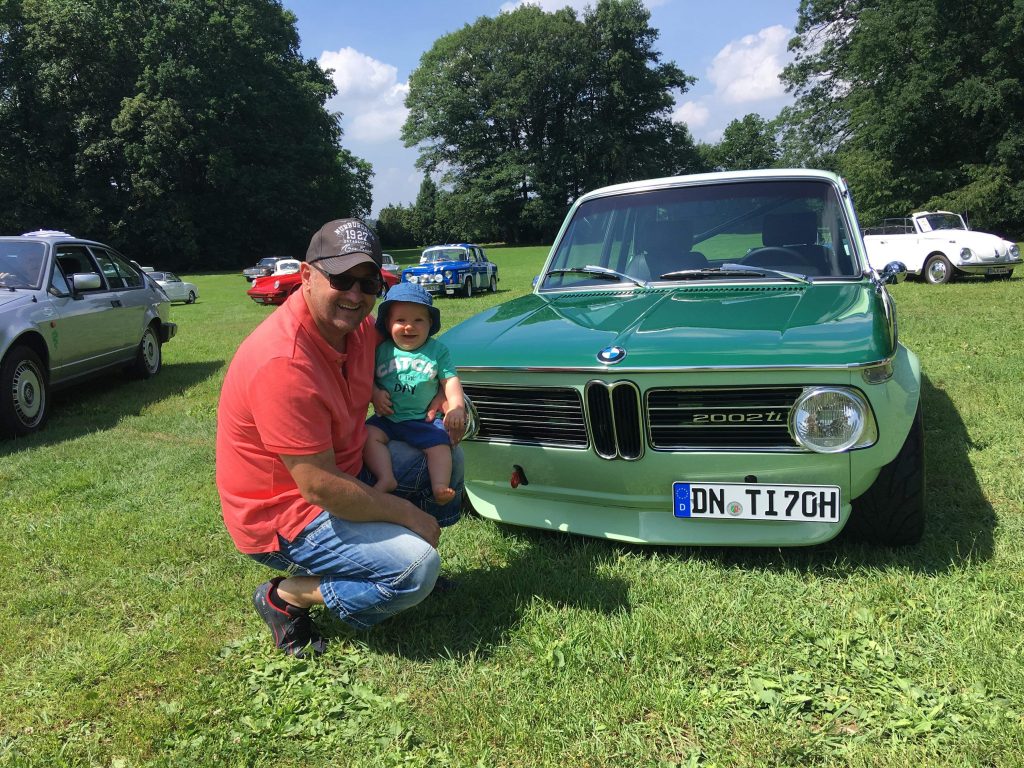 Tuning is a good thing in a BMW 02, every second copy felt "styled". That was not always good, the stock of hot compact sedans has shrunk over the years questionable. From the outset a rarity was the double carburettor fitted 2002 ti, of which today only a two-digit number is admitted in Germany. Mike Valder made sure that the registration statistics in 2017 could once again register a 2002 ti, namely a contemporary-styled – in condition 1!
During the production time of the 02 series, the Federal Republic experienced its first tuning boom: From the Ford Escort to the NSU TTS, light and heavily motorized two-door cars were especially widened, spoiled and lowered. In addition, there was often a juicy engine tuning, where usually the cylinder head was processed, hence the name "hairdressing". The tuners also fell on the 02: Alpina, GS, Koepchen and Schnitzer used the small BMW on the circuit and offered power-hungry BMW owners a steadily growing program for the road.
BMW itself increased the sporting potential of the two-door and presented the 1966 presented 1600-2 with 85 hp from autumn '67 the 1600 ti with increased compression, two double carburetors and 105 hp aside. Similarly, the Munich drove the 100-hp 2002, which came out in February 1968 by a few months later the 2002 ti, which was considered with its 120 hp as highway fright and also proved to be extremely competitive in motorsport.
With 10,989 DM, the 2002 ti was a good deal more expensive than the 2002, which was available from 9,474.40 DM. Possibly a reason that the ti only about 16,500 pieces were built, while the normal ran almost 337,000 times off the line. To be fair, it must be mentioned, however, that the uncomplicated 2002, in contrast to the double carburettor variant, was also offered in the USA, which contributed significantly to the sales success of this design.
When Mike Valder bought his 2002 ti a good three years ago, 81 pieces were registered at the Federal Motor Transport Authority. The car was known to him at this time already longer: "My father has restored more than 30 years of vintage cars and built racing cars, by the way, his white E21 was already under the title 'Edelweiss' in BMW SCENE LIVE," says Mike. "He knew of someone who was rebuilding a BMW 2002 ti body." As a connoisseur, Mike's father kept an eye on the project, but over time he noticed that the structure was stalling. Together, father and son took a closer look at the body, which was already equipped with spacers and painted in two colours in the RAL shades of white-green and moss-green: "The body was very well made and the pig's cheek modification expertly applied," says Mike.
The roundish "pork-cheek" broadening in the 1970s and 1980s was just one of many wide-body variants offered by various manufacturers for the 02. The range ranged from wheel arch extensions in the style of the 2002 turbo to box-shaped attachments in the Group 5 look. The wildest versions had even angular wheelhouse cut-outs, known as "stop sign widenings". The GFK widenings on Mikes 2002 ti are based on parts of the Freiburg tuning company and racing stable GS Tuning, which used pork cheek extensions on both its racing cars and on customer vehicles for the road mounted …
While the body was in perfect condition at the time of purchase, the remaining parts were largely unusable for Mike's plans, because he and his dad were aiming for a state grade of 1. So the bodywork was carefully stored, and a two-year parts search began, during which the duo struggled to find all the necessary parts in new or new condition. For a car that is almost 50 years old, it's not an easy task: "Not everything that you get new is not always very good quality. So you have to sort out fine, which parts are installed and which ones are newly built on their own or where you put old parts in new condition. "…